Peer to peer marketing (P2P) and account-based marketing (ABM) are both forms of targeting and reaching potential customers. While neither one is a new concept, today's technology has made them easier to put into practice.
ABM was used back in the 60's by one of the largest figures in the advertising world: David Ogilvy. But digital marketers today don't need the budget of Ogilvy & Mather to make it happen.
To learn how you can effectively use both methods together to craft personalized, cost-effective campaigns, this article will discuss everything from the basics of P2P and ABM to targeting and the role of personalization.
What is peer to peer marketing (P2P)?
Peer to peer marketing is one of the oldest forms of marketing. In short, it's a form of word-of-mouth that includes family, friends, and even current customers recommending your business to others.
While potential customers may watch your videos, read your content, or look through your brochures, they know that your content is likely biased in favor of making your company look favorably. Yet when these same people receive information from their peers (people whose opinion they trust) regarding your business, they know they are receiving an unbiased recommendation.
But exactly how much are people influenced by others when it comes to making a purchase?
In a survey completed by Nielsen, 68% of respondents stated that they trust online influencers and 88% trust online reviews of products and services according to Bright Local. Recommendations from family and friends also impact the buying decision. In another report, results showed that 49% of B2B buyers follow the advice of people closest to them.
If those stats are not compelling enough, the infographic here details a few more interesting points regarding P2P/word-of-mouth marketing: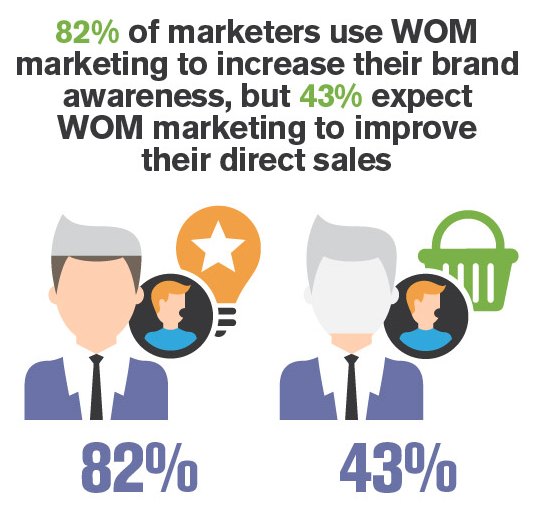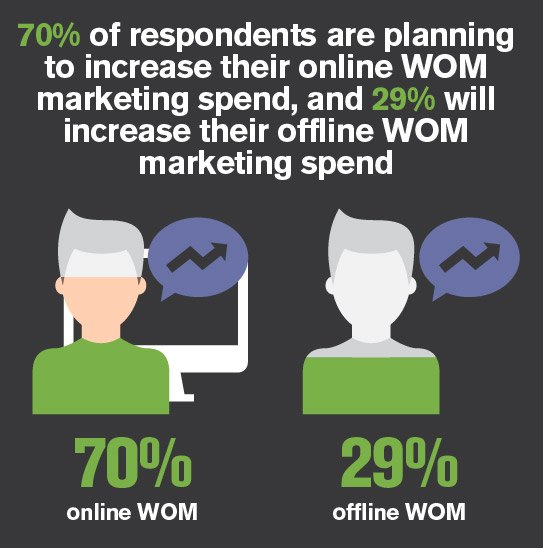 Marketers can encourage word-of-mouth by putting together referral programs, rewards, discounts for loyal customers, and investing in high-quality customer service.
What is account-based marketing (ABM)?
ABM is a strategy that focuses on locating a small number of companies and their decision makers when it comes to new purchases instead of trying to reach the masses.
Unlike inbound marketing, which aims to bring in maximum visitors and move them through a funnel, ABM focuses on identifying qualified leads/customers first before marketing to them.
This graphic shows how inbound marketing and ABM identify target companies differently: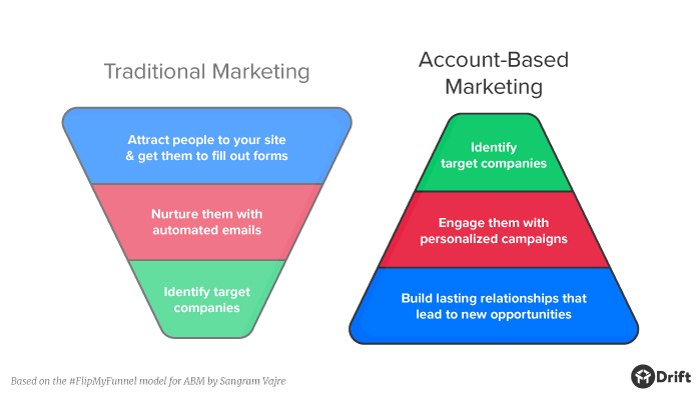 This approach eliminates the budget spent on prospects who may be interested in your solution but due to other factors (e.g., budget, timing, pain points) won't move down the sales funnel.
Instead of sending emails to an audience that opts in, and seeing a 2-3% average click-through rate as a result, ABM works with a far smaller database and higher chances of success.
How to use P2P marketing and ABM together
Peer-to-peer marketing and ABM go hand-in-hand. For customers to recommend your company, you must go beyond making them happy. You need to create an impression so strong that it fosters a "wow" moment (ex: "Wow, this company's customer service is amazing!").
However, it's difficult to do that if you take an inbound marketing approach and focus on the masses.
With ABM, you can focus on a smaller group of potential customers and dedicate the time and effort they deserve. This is when you can create a real connection with these people so strong that they are willing to tell their friends, family, and acquaintances about your business.
Example
Rather than spending only a few minutes on a call, now you have the ability to spend up to an hour chatting with a client to truly understand their needs and establish a genuine relationship. Or, maybe you set up a product demo and walk-through them through how your product will solve their pain points.
Both would be difficult to accomplish if you take a volume approach. In this instance, it's quality over quantity.
A step-by-step approach to using P2P marketing
Peer-to-peer marketing is not a passive strategy. While creating exceptional products and delivering amazing customer service are key, sometimes customers need a little push in order to recommend your business.
Additionally, with the rise of influencer marketing, companies now have the opportunity to reach out to well-known or authoritative figures directly to do their marketing for them.
The step-by-step approach below, will discuss how you can leverage influencers, build a community, and encourage people outside your company to speak positively about your business.
1. Search for influencers in your niche
Family and friends aren't the only ones who influence your potential customers.
Many people turn to influencers, product reviewers, and authoritative websites. An influencer can be a celebrity who endorses your product but can also be a popular content creator on YouTube or a trusted blogger with a large following.
That said, you don't need to hire a celebrity to endorse your product.
Instead, if budget is limited, it's best to focus on smaller niches with micro-influencers who can promote your product or service at a more affordable rate. For an in-depth look at how much influencers charge, this guide covers average rates in 2018.
When searching for an influencer, make sure that:
They have a large, engaged audience that would be interested in what you're selling
Their content aligns with your brand persona
The influencer has a history of consistently posting valuable content
If the influencer can't answer "yes" to all three, then keep looking for one that matches your needs.
2. Connect with influencers
Before sending the influencer an offer, you should consider how the influencer's mention of your company affects their own brand.
For example, it is not recommended you send an aggressive sales pitch to a blogger who by posting about your product, will lose a large chunk of their readers as well as take a hit to their credibility.
Offers like this won't be accepted. You must ensure that the content you produce and the products or the services you send them are presented in a credible manner.
If possible, skip companies that work like middlemen between you and influencers. To that point, according to Social Media Examiner, 79% of social influencers prefer to be contacted directly.
3. Reward the people who endorse your business
Discounts, referral programs, free products, or flat fees are all great ways to encourage endorsements from influencers. Platforms such as Influitive, Mention Me, and Ambassador all offer ways for you to reward customers for referring your business: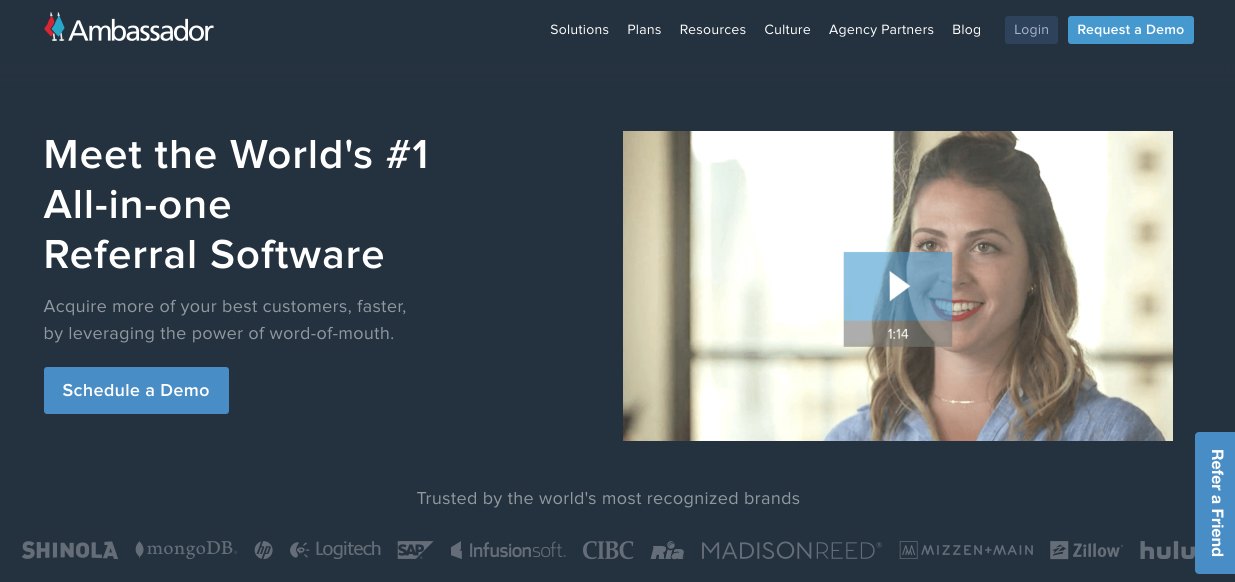 When it comes to customer evangelists, access to early features, discounts on new services or products, or gift cards are all ways to make sure they feel appreciated.
4. Build a community around your brand
Companies like Sony have managed to build exclusive communities around their brand by connecting Playstation users: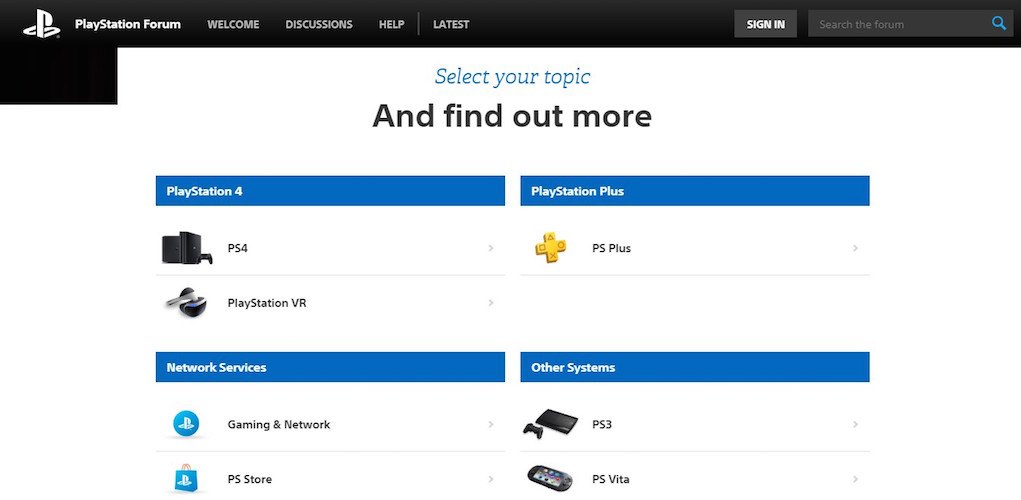 Forums, social media groups, and chats are not only good at building customer loyalty, but they're also great places to look for customer feedback. Additionally, there's no better way to keep people talking about your business than giving them access to a platform where they can express themselves and connect with like-minded people.
How does targeting play a factor?
John Wanamaker, the founder of the first American department store and a pioneer in marketing, famously stated:
Half the money I spend on advertising is wasted; the trouble is I don't know which half.
However, a review of your targeting can help you avoid a similar situation and possibly wasted ad budget.
The targeting process usually starts by creating a few profiles of your top 20% clients and identifying what positions they have, what their pain points are, who makes the purchase, etc.
One of the best ways to learn more about your top customers is by asking them questions via surveys. Even short surveys are sometimes ignored, so to get maximum responses, including a small discount as a reward can incentivize people.
In your survey, ask questions such as:
What was your biggest pain point?
What pushed you to purchase our product or service?
How satisfied are you with our product or service?
What product or service improvements could we make?
How could we have made the purchasing process easier for you?
After reviewing the results, identify which prospects have the same pain points and tweak your product or service in case you receive any negative feedback.
What's the role of personalization in marketing success?
Instead of trying to attract a large group of people, ABM focuses on identifying target companies, customers, and decision makers first. Thus, your team can spend more time with the people who are interested and more likely to purchase from you. This allows your marketing team and sales reps to have deeper discussions with customers, build trust, and leave a more impactful impression, which is key to creating customers who do your marketing for you.
Bridge the gap between customers and your campaigns
Peer to peer marketing and ABM working together are the ultimate weapons in a marketer's arsenal against guesses, low conversion rates, and fears that a product won't deliver on its promise.
With the abundance of lead tracking, powerful CRMs, referral and reward programs, there is no excuse for companies to neglect peer to peer marketing and ABM.
These two marketing methods aren't the only tools a marketer should use, though. For additional ways to pinpoint the missing link in your campaigns, sign up for an Instapage Enterprise demo here.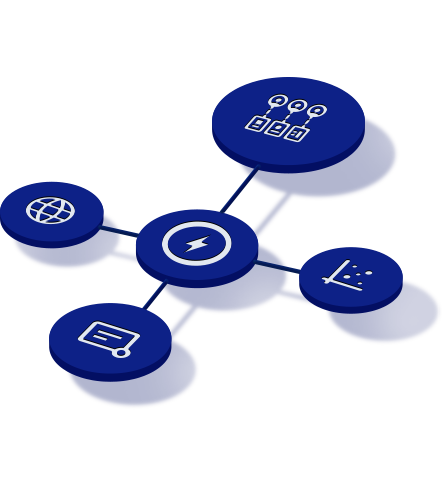 See the Instapage Enterprise Plan in Action.
Demo includes AdMap™, Personalization, AMP,
Global Blocks, heatmaps & more.